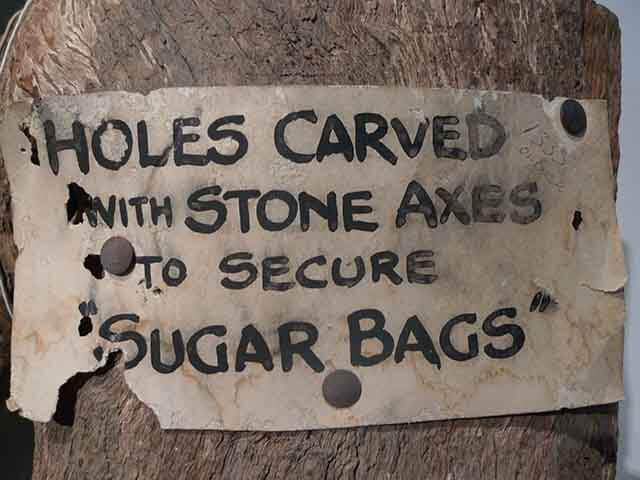 Many of the things in this exhibition come from the energetic collecting by The University of Queensland Anthropology Museum's founder, medical doctor and keen 'amateur' anthropologist Lindsey P. Winterbotham. From the 1930s to 1960, the last decades of his life, Winterbotham employed networks of other collectors, drawing on his professional connections to amass a considerable, high quality and unusual collection.  From his written correspondence it seems he felt an imperative to collect. He importuned a regular donor:
"I know that we set you a rather difficult task, but our only chance of preserving from complete loss all the very interesting material that could be gathered concerning the culture – the old culture – of this ancient people, lies now with such people as yourself".  
Anxious to 'salvage' Indigenous (and Pacific) cultural items and knowledge in a rapidly changing world, post colonial contact, Winterbotham was also concerned about the lack of professional anthropologists in Queensland. Dr Winterbotham co-founded the Anthropological Society of Queensland (ASQ) and both he and the ASQ committee considered that having an ethnographic collection at the University of Queensland was essential to their aim of establishing a chair in Anthropology here.  Both Winterbotham and the other ASQ members, as well as other collectors with whom they exchanged collections, wrote often copious notes directly onto things.  Writing a registration number onto collection items in order to catalogue them persists in many institutions today.
In 1950 Winterbotham was offered a set of publications and photographs by Walter E. Roth, annotated by the author.  These items were prized by Winterbotham since they provided a reliable source of information about Aboriginal peoples' lives fifty years earlier.
Roth had performed various government roles as a medical officer and as the Protector of Aborigines in Queensland between 1896 and 1906 and had simultaneously amassed anthropological data; material culture, information about various locales and groups of people, some word lists and anthropometric measurements.
Roth initially appeared in this exhibition through his photographs of ten people - 7 men and 3 women - with labels fixed to their chests.  Roth posed them for portraits or 'busts' in pairs taking full face and profile pictures of each to accompany their anthropometric measurements.  Our research dates these images to 1898.
Here is one of these images, a double portrait showing ' Euro' possibly 'Hero' and 'Tiger' which was almost certainly taken in 1898 at the Musgrave Native Police camp, Princess Charlotte Bay on eastern Cape York, north Queensland.
The UQ Anthropology Museum is interested in tracing Euro's descendants. Our research to date from various archival sources has yielded the following:
Euro was born c. 1868.  Roth lists him as a Kokowara - Lama Lama man.
He worked as a police tracker and travelled with Roth's party for a time.
He died before 1914.
His child or children and wife (possibly named Minnie) moved to Palm Island with Charlie Whitefoot a few years after his death.

References:
Dr L.P. Winterbotham to Rev. K. Coaldrake, Forrest River Mission, 13th October 1955, type written letter, UQAM records.
The Museum's Photographic collection is coming online soon
The UQ Anthropology Museum has a considerable collection of historical photographic portraits of Aboriginal and Torres Strait Islander people. Many of these portraits have no details of the sitter attached and by publishing them we hope to provide both linkages with other on line collections and material for family history researchers. During this year we will gradually clear these images prior to placing them on line in the Museum catalogue.