5 February 2010 – 9 April 2010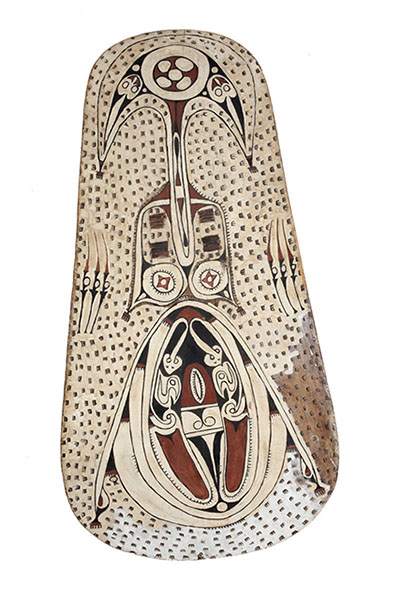 Curated by Diana Young with Jane Willcock
Double Up features couples and other kinds of doubles in the Collection of the UQ Anthropology Museum, made by artists in Papua New Guinea during the twentieth century.
The unit of two makes relationships possible; it is the first unit of sociality and exchange. Across Pasifika exchange remains central to creating, maintaining and extending social relationships of all kinds. The twins, pairs and couples here are about imagining relationships and materialising them in various media.
There are several other aspects to doubleness in the exhibition. In visually complex and varied performance traditions across PNG, masking is a captivating practice. Masking makes tangible ancestral and spirit dimensions that are usually invisible. While there are inherent symmetries in the human body, being double-faced can have devious connotations.
Extending the social reach of an individual can be achieved with things, as in the famous poetic and ritualised kula exchanges of shells or in the spatial reach of a dancer's body expanded using tall head dresses. In contrast, a person in mourning can be shrunk, doubled up with sorrow.
View full photo gallery on Flickr:  Double Up; Pasifika Treasures from the UQ Anthropology Museum
Acknowledgements
Exhibition curation: Diana Young with Jane Willcock
Catalogue text: Diana Young
Installation team: Jane Willcock, Diana Young, Kate Stanway, Noel Sprenger and Janine Dunleavy
Photography: Carl Warner
Armatures: Brandi Designs and Noel Sprenger
With warms thanks to Professor David Trigger, Jane Willcock, Kate Stanway, Noel Sprenger, Janine Dunleavy, John Moller, Helen Burdon and the Faculty of Social and Behavioural Sciences
Banner image: Maker(s) unrecorded, stone Iniet figures, before 1981, East New Britain province, Papua New Guinea, acquired by Edward E. Tull
Teaser image: Maker(s) unrecorded, carving of two men c.1956, Milne Bay Province, Papua New Guinea, donated by W. Cottrell-Dormer, 1974