28 February 2020 - 18 June 2021
Curated by Gretchen Stolte
Exhibition catalogue (PDF, 1.5 MB)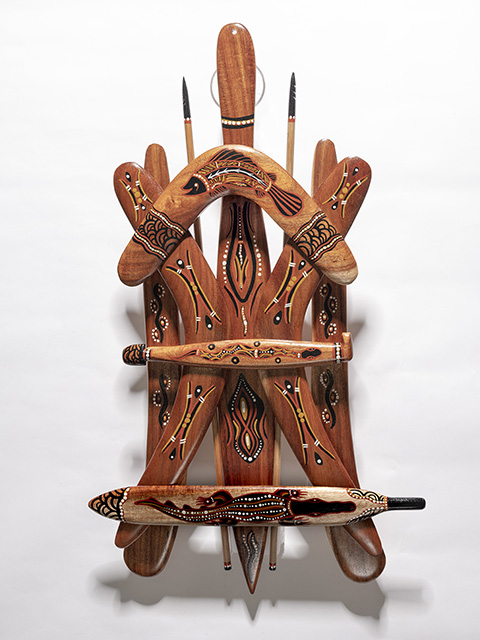 There is no doubt that the story of Queensland Aboriginal Creations (QAC) is a provocative one. As the marketing arm of the Department of Native Affairs, QAC influenced the production, promotion and reception of Aboriginal and Torres Strait Islander art and craft in Queensland from 1959 (and arguably) through until today. Despite decades of government involvement, the agency and drive of the Aboriginal and Torres Strait Islander artists and communities involved with QAC tells a story of innovation, playfulness and a bit of quirkiness as well.
The University of Queensland's Anthropology Museum's exhibition, Queensland Aboriginal Creations: Agency and Legacy, showcases over 150 works alongside archival documents from a fascinating point of the State's history. Many of these works have never been exhibited before, having been drawn from the University's own collection as well as objects from the Queensland Museum and private collections. From 1962 to 2019, included artworks represent a diversity of object types including boomerangs, pottery, artefacts, weavings, strung objects, carvings, prints and bark paintings. These works also represent communities across the entire state including the Torres Strait Islands, Kowanyama, Pormpuraaw, Mornington Island, Hope Vale, Cairns, Yarrabah, Cherbourg and across the city of Brisbane.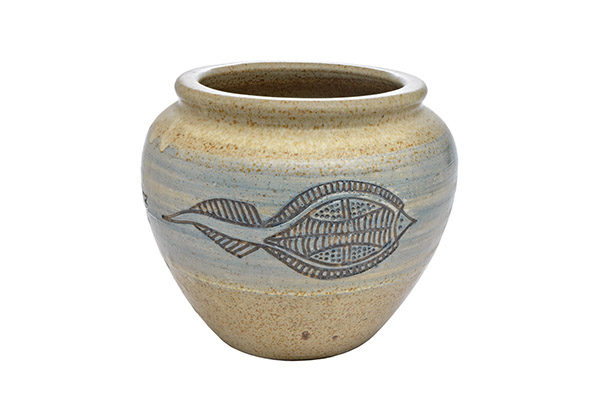 Importantly, Agency and Legacy tackles one of the most controversial of QAC's policies in order to recognise the innovation, creativity and entrepreneurial nature of the artists involved. QAC's practice of importing traditions of art production from Aboriginal communities outside of Queensland has been well documented but rarely understood from the point of the artworks and artists involved. Queensland Aboriginal people were asked to copy and reproduce bark paintings from Arnhem Land as well as mass produce returning boomerangs. Despite these mandates, Aboriginal and Torres Strait Islander artists and craftspeople were radically creative, producing works that contain traditional storytelling and findings innovative ways of expressing themselves and making a living for themselves and their families. This exhibition is dedicated to the artists and communities across the state who made their QAC experience their own and left a legacy of incredible works.
A University of Queensland Anthropology Museum exhibition in partnership with the Queensland Museum.
Acknowledgements
Curation: Gretchen Stolte
Curatorial officer: Mandana Mapar
Conservation: Kate Shepherdson
Photography: Carl Warner
With thanks to Nancy Bamaga, Kel Williams, Garth Murgha and Estelle Tranby, John Conroy, Matthew Wengert, Viv Sinnamon, Imelda Miller, Curator, Queensland Museum, Kathy Frankland, Manager, Community and Personal Histories, DATSIP

Banner image: QAC marketing stickers, courtesy John Conroy
Teaser image: Mornington Island scoop net, UQ Anthropology Museum collection