15 March 2014 - 15 August 2014
Curated by Judy Watson and Diana Young
Curated by Waanyi artist Judy Watson and UQ Anthropology Museum Director Diana Young, written on the body disrupts museum classificatory categories. Anthropology Museum collection things and photographs that were, in the past, inscribed with labels, numbers and other notes have been arranged with kitchen implements.
A film made by Watson explores how people with ties to Aboriginal and Torres Strait Islander artefacts in the Museum's collection respond to the past in the present.
"Exiled in museum storage spaces, in a suspended animation until they are visited or displayed, objects await to be enlivened.  As collected objects they have been hoarded and ordered, labelled and measured and stored away, displaced, as objects of study.  Their thing-ness has been diminished through a temporal and spatial slippage and disarticulation.  The melancholy of objects thus isolated from the real world of people is what is most palpable in these situations of sensory deprivation.  In such out-of-place and out-of-time contexts what impacts us is their disenchantment ... evidenced in their weak calls to us as we enter and switch on the lights.  Their potentialities, their enchanting qualities and liveliness ... yet to be realised" (Fuary 2013: 4).
In the past, especially in the early years of the Museum in the mid-20th century, it was usual to write on to collected things, securing their classification and place in the collection.
Artist Judy Watson's response to these written on Indigenous things - the everyday paraphernalia for living of stone axes, knives, grinding stones, spears, dishes, throwing sticks - is multilayered.  In the museum's gallery these things co-exist amongst used kitchenware, rear- view car mirrors and anthropometric measuring devices creating new sets of relationships.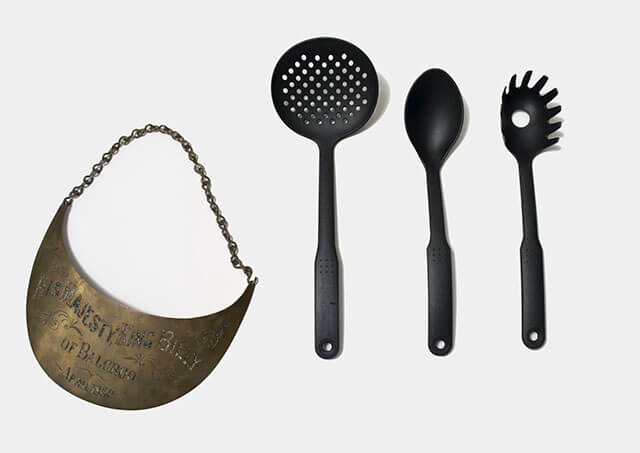 The 'bodies' in question span the categories of human and non-human.  A slideshow, part of the installation, presents not only portraits of Aboriginal men with cicatrices but also a poignant collection of photographs recording scarred trees on a Queensland cattle station property.  Trees were worked by Aboriginal people to obtain material for shields, canoes, bowls and other implements, carved for ceremonial bora grounds and used for burial.  The stone axe in the exhibition  labeled 'found with bones' perhaps alludes to this presence of Aboriginal tree burials that persisted in marking out Aboriginal country well into the 20th century.
Watson makes an analogy between the cicatrices on Aboriginal bodies - the raised scars made to show initiation - and the grooved grindstones known as Morah stones from North Queensland, used for food preparation.
View full photo gallery on Flickr:  written on the body
Acknowledgements
Curation: Judy Watson and Diana Young
Film, 'found with bones' 2014:  Judy Watson, Alex Barnes
Slideshow, 'scar' 2014: Judy Watson, Diana Young, Camella Hardjo
Curatorial assistance: Camella Hardjo, Felix Cehak
Additional curatorial assistance: Jane Willcock, Charla Strelan, Kiri Chan
Project assistant: Kiri Chan
Conservation: Kate Stanway
Photography: Carl Warner
Research assistant: James Jang and Amelia Radke
Additional research: Jane Willcock, Camella Hardjo
With thanks to film participants Lafe Charleton Bianca Beeteson, Uncle Bob Anderson, Kevin O'Brien and Gordon Hookey
Kitchen lenders: Donna Marcus, Carol McGregor, Marlene Carmichael, Keith Kuchenmeister, Deirdre Carmichael, Barbara Carmichael, Helen Jones, Jeannie Baker, Noreen Grahame, Pat and Wyn Faulkner, Helga Erichsen, Peter Carmichael, Hannah Ranson, Lafe Charlton, Aly Alway and Trevor Galbraith, Judy Watson, Diana Young.
More thanks; Tom Archer, Russell Archer, Lindy Allen, Bruce Rigsby, Peter Sutton, Daniel Leo, Lyn Freckleton and Regina James on Palm Island, Diane Hafner, Maureen Fuary, Paul Memmott, Jane Lydon, Michael Aird, Sally Babidge, Tania Schafer and John Oxley Library, Christine Hero, Ron Harrigan, Eric Harrigan, Balkanu Council, Alison Liddy, Mary Durack, Fred Cecak, Margaret Reid and Department of Aboriginal and Torres Strait Islander and Mulitcultural Affairs, Black Image, Lisa Jones, curator, Brisbane Police Museum, University of Queensland Art Museum.