Strong Women Strong Painting Strong Culture
Indigenous Women's art of the Central and Western Deserts from the Sims Dickson Collection and from the UQ Anthropology Museum Collection
29 August 2014 - January 2015
Curated by Deborah Sims and Matt Dickson in conjunction with the UQ Anthropology Museum
 
This is an exhibition of contemporary art made by women living in central Australia. Many of the artists are from what has become known as the Western Desert notably the Anangu Pitjantjatjara Yankunytjatjara Lands in the far north east of South Australia and the Ngaanyatjarra Lands adjacent in Western Australia.
The artists in this show are:
 
Imiyari Adamson, Kay Baker, Teresa Baker, Tjapartji Bates, Anmanari Brown, Katanari Butler, Kunytjita Brown, Jean Inyalanka Burke, Alison Carroll, Myra Yurtiwa Cook, Anna Curley, Angkaliya Curtis, Malpiya Davey, Pulpurru Davies, Alkawari Dawson, Anne Dixon, Kathleen Donegan, Blanche Ebatarinja, Yangi Yangi Fox, Alison Inkamala, Rachel Yukultja Jennings, Naomi Kantjurinyi, Tjampawa Kawiny, Iwana Ken, Iluwanti Ken, Colleen Morton Kngwarrey, Rene Kulitja, Dora Wanatjura Lane, Niningka Lewis, Pantjiti Lionel, Neville Niypula McArthur, Pantjiti Ungkari McKenzie, Joyce McLean, Tjalumi Mervin, Paniny Mick, Sally Mulda, Betty Kutungu Munti, Shirley Namatjira, Alice Nampijinpa, Millie Skeen Nampitjin, Narputta Jugadai Nangala, Lucy Kennedy Napaljarri, Tjunkiya Napaltjarri, Eunice Napanangka, Makinti Napanangka, Maxine Mick Nelson, Jacinta Numina-Waugh, Mary Pan, Patjiparan, Tali Tali Pompey, Matilda Proddy, Milatjari Pumani, Constance Robinja, Marlene Rubuntja, Sally Rubuntja, Dulcie Sharpe, Nalpingka Simms, Telissa Splinter, Renita Nyalapantja Stanley, Tjaria Stanley, Nellie Stewart, Tjunkaya Tapaya, Wingu Tingima, Carlene Thompson, Dolly Ungakini, Nyanu Watson, Lalla West, Kunmanara Williamson, Tjaruwa Woods, Maggie Yilpi, Yaritji Young.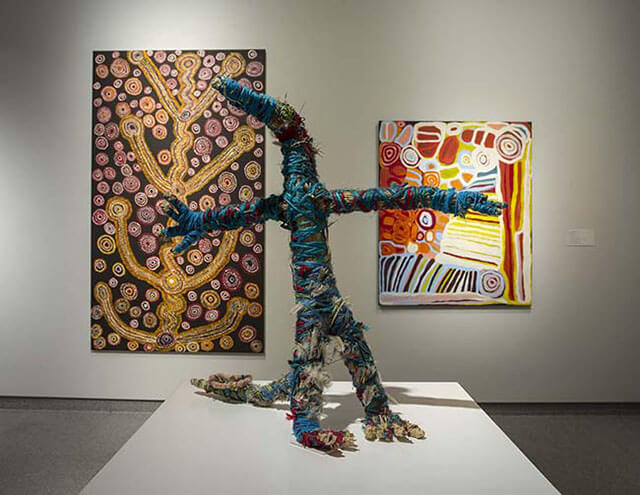 The exhibition is only part of the collection of Deborah Sims and Matt Dickson who, in 2008, first noticed work made by artists from the Western Desert. They devoted themselves to buying from ethical dealers who have established relationships with  Aboriginal owned community art centres. Sims and Dickson are sharing their passion through the curation of a touring show derived from their own collection - Strong Women, Strong Painting, Strong Culture.
The works in this exhibition are about the present, even when their subject matter is Tjukurpa. This is a religious term glossed as the 'Dreaming' in English, a period when features of the land were created by the actions of Ancestors who finally went into the ground or the sky where they remain today. Living people care for the Ancestors through ceremonies and, by performing  these, access Ancestral power and energy.
 
Some of the energy latent in the Ancestral land is passed onto us through the colour and tactility in the art works. We are unused to colour like this in our often chromophobic culture. Bask in it here with its highly spiritual resonance akin to stained glass in a cathedral. The photographs on the gallery doors show how the land changes after rain and fire into sheets of brilliant colour (as in Kunmanara Williamson's painting). Its textures are evoked through the use of feathers, yarns, spun sheep and camel hair used skillfully by Mrs Burke in her tjanpi / grass sculptures of animals.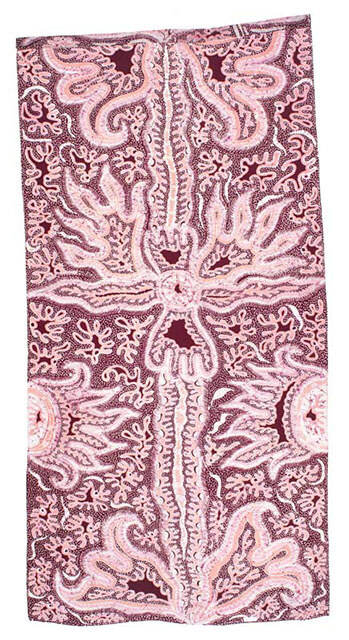 A quarter of this exhibition is drawn from the collection of the UQ Anthropology Museum and includes new acquisitions; work by Sally Mulda and Niningka Lewis that tell different kinds of stories; batiks made in the 1980s and '90s on the Anangu Pitjantjatjara Yankunytjatjara Lands by Tjunkaya Tapaya, Anna Curley, Patjiparan and Tjalumi Mervin. Women first learnt batik- drawing with wax and colouring with dyes - in 1971 at Ernabella. It is a medium for which they were well known until the recent resurgence of painting on canvas. We have hung batiks with paintings here allowing them to connect.
There are also crowbars from the Museum's collection along with women's camping and cooking equipment. Making some of these art works, the wooden sculptures called punu for example, is hard graft involving much digging with crowbar and shovel.
Perhaps the most culturally important work here is the three-quarter life size tjanpi / grass sculptural group of the Minyma Kutjara / Two Women. It shows events at a particular place; the women are resisting the man who has followed them. Materializing the figures of Ancestors like this for wider audiences is an innovation of the last few years.
Most of the artists are multi-lingual and do not use English as a first language.
Artists in this show are from the following language groups: Pitjantjatjara, Yankunytjatjara, Ngaanyatjarra, Kukatja, Pintupi, Warlpiri, Arrernte, Western Arrernte, Luritja, Anmatyerre and Alywarr. Of these Pitjantjatjara / Yankunytjatjara is the most common.
Acknowledgements
Project curation/ curation of UQ Anthropology Museum component: Dr Diana Young; project co-ordination: Jane Willcock; museum assistants: Kiri Chan, Camella Hardjo and Charla Strelan; conservation: Kate Stanway; photography: Carl Warner; student assistants: Chris Lovell, Amelia Radke and Jen Rowe.
With many thanks to Deborah Sims and Matt Dickson.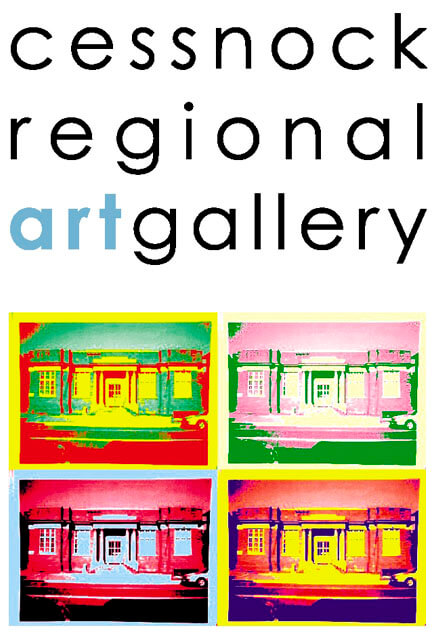 Teaser image: Left to right: Iwana Ken (1937) Walytjitjara 2008, Teresa Baker (1977) Wati Ngintaka 2011, Anmanari Brown (1930s) The Seven Sisters 2009, Sims & Dickson Collection