20 July 2015 - 2 October 2015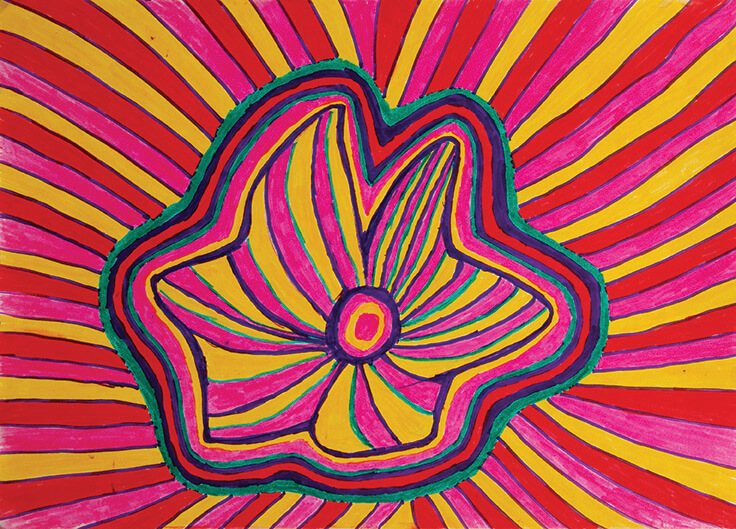 Jimmy Pike was a great story-teller. Touched with a lively sense of humour, his art depicts the dynamism of life in the desert: waterholes, the landscape, animals and plants, as well as Ngarrangkarni or Dreamtime stories, people, and modern technology.
Jimmy Pike's Artlines... is a selection of vibrant felt-tip pen drawings that bring the artist's country in the Great Sandy Desert of Western Australia into glorious relief through renderings of spirit beings, flowers, stars and earthscapes.
The works on paper, created between 1990 and 2000, draw on the knowledge and skills Pike learnt as a boy growing up in the hunting-gathering tradition of his family in the desert. His intimate knowledge of his country is translated through the varying styles and themes surveyed in this collection of drawings.
While Jimmy Pike is best known for his acrylic paintings on canvas, and the internationally recognized textile designs through the Desert Designs label, this exhibition showcases his experimental approach to colour, texture and drawing. After trying many spirit markers, Pike settled on Artline 70 and 90 for their strong and enduring colours.
The drawings in Jimmy Pike's Artlines... have not previously been exhibited. They were produced in the open air at Pike's isolated camp, and at his last home in Broome. As a collection they give us a rare glimpse of the visual character of the changing seasons and magic of desert life, projected through the energy and flourishing creativity of one of Australia's important Aboriginal artists.
Jimmy Pike Artlines: You call it desert, we used to live there is proudly presented by The Berndt Museum, The University of Western Australia.

Acknowledgements
Exhibition team: Dr John E Stanton, Pat Lowe, Murungkurr Terry Murray, Kelly Rowe, Barbara Bynder, Nell Ustundag, Eve Chaloupka.
This project has been assisted by the Australian Government through the Australia Council for the Arts, its arts funding and advisory body.
The national tour of this exhibition is managed by ART ON THE MOVE.



Banner image: Mangkajakura (a jila named after the owl that made it), by Jimmy Pike, Walmajarri language, Fitroy Crossing, Kimberley WA. Felt-tipped pen on paper. Image courtesy The Berndt Museum, The University of Western Australia.